We are almost halfway through 2020. Looking back to January, no one predicted the technological disruptions the world would soon be facing. In the months that followed, there was a drastic change in the global workforce and the need to work from home was no longer seen as a luxury but a necessity. Many businesses scrambled to put systems in place to allow for this transition.
According to a study by Kate Lister of Global Workplace Analytics, 56% of the US workforce has a job that can be done from home. It is estimated that by the end of 2021 30% of the workforce will continue working remotely. Although, due to the issues we've encountered for the past six months, that number seems low. Especially given the technology we posses to support a mobile workforce and the benefits of remote work that employers have recently seen.
While we didn't predict the scope or scale of the 2020 technological disruptions, IMS has been encouraging businesses to hop on the digital transformation train for quite some time. We strongly feel that 2020 is the year to embrace digital transformation!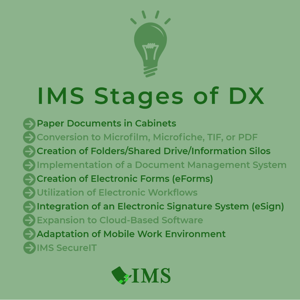 One of the first steps a business needs to take is to determine what paper documents inside their office need to be kept and what documents can be gotten rid of. Our Paper Free Office division is AAA certified by the National Association for Information Destruction and can securely dispose of old documents. We even offer a certificate of destruction upon completion.
The next step is to digitize and organize the necessary documents that your staff uses on a daily basis or that you may need to keep for legal purposes. IMS Technology Group has a full, in-house, scan department that utilizes cutting edge technology to convert your paper to a digital format. We offer back-scan as well as day-forward scanning. The software we use has OCR capabilities that will index each document, making information you need instantaneously accessible with a few keystrokes. In some instances, we've helped companies create their own internal scan department.
We've found that some businesses and many schools are still storing information on microfilm. It is widely touted that microfilm has a shelf life of 500 years and is "the safest way to store information". This is not accurate, that shelf life is only when the film is stored in proper conditions. In our experience, we have yet to find microfilm being stored properly. Most of the film we've pulled out of basements and storerooms is badly corroded and damaged. We highly encourage our clients to convert their film now, which again, we do in-house. The microfilm you're storing won't ever get better than it currently is, but it won't stay the same either. It's only going to get worse.
You might be thinking, what do I do with digital files and documents and how do I make sure the right employees have access to them, especially if they are working outside the office? We have a solution for that too. We will assess your needs and suggest the appropriate document management software solution. We are a long-standing partner with Upland Software and routinely recommend FileBound, which is essentially a digital filing cabinet.
Once a digital filing cabinet, such as FileBound, is in place you are truly immersed in digital transformation. It becomes easy to integrate automation, workflows, eForms and electronic signatures. Everything you need as an employer to keep your team together, all working on the same page, and at the same time be able to efficiently help your clients. We recently helped one Missouri School District renew all their teacher contracts electronically. A process that typically took months to get all the paperwork back in and signed was done in a matter of weeks.
What we view as the final component to create a truly mobile workforce, is IMS SecureIT powered by CompleteCloud. This replaces your current IT infrastructure and places all your IT in a cloud based system. CompleteCloud is a scalable solution for all your IT needs in a per-user per-month model, making all your IT expenses predictable.
In short, all of the products and services IMS offers are designed to de-clutter and free up space, make your processes more efficient, allow for better communication between your employees and create a technological environment that supports remote work.